It's official, life vests are cool. I hear anglers chiding each other at the launch ramp for not wearing a PFD. "Dumbass," I heard someone say. With so many options for personal flotation, only a dumbass would go without.
Manual or automatic, inflatable or foam, hybrid or full-size, there's a life vest for every type of angler and any type of fishing. To stay afloat in a sea of choices, we asked three pros what they use, where and when.
Foam filled
Foam-filled life vests offer inherent buoyancy for the most reliable flotation. "If I'm on a river or coastal water, I'll go with the foam vest every time," Ryan Lightbody says. Lightbody is manager for product development and marketing at Stohlquist, manufacturer of high-end life vests. "If I go in the water, I'll be grabbing for my boat and won't have time to inflate my PFD," he explains.
Gabe Doring at Absolute Outdoor makes the choice easy, "Foam PFDs are simple," he says. Foam vests must provide at least 15.5 pounds of flotation, so designers can't fudge on the amount of foam. "We can't cheat the physics of buoyancy," he laughs.
Instead, the foam is shaped and scalloped to fit well and stay cool. Doring says, "We look for ways to make the foam vent body heat." Lightbody suggests a PFD with foam high on the back or a thin back to accommodate the kayak seat.
For anglers, a foam PFD offers more room for pockets, D-rings, tabs and loops. But the experts warn against loading up with too much stuff. Doring points out, "Adding weight could affect buoyancy."
Reliable flotation and extra storage make a foam vest the top choice among paddlers. But anglers in southern regions complain a foam vest is too hot. Or restrictive. To answer the complaints, hybrid vests combine the best of both foam and inflatable vests.
Half and half
Mixing the inherent flotation of foam with a small inflatable bladder, hybrid life vests offer reliable buoyancy with less bulk. Alex Kozma, a designer at Mustang Survival, touts the freedom of a hybrid. "Dual flotation devices offer security of inherently buoyant foam with the added benefit of extra buoyancy if conditions change."
Kozma points to Mustang's Khimera vest, where a thin layer of foam provides 7.5 pounds of flotation. If the swimmer needs more help, pull a cord and a bladder inflates to add 12.5 pounds of flotation. The concept wouldn't have been possible a few years ago. "With new fabrics and more investment in engineering and technology, we're seeing PFDs become increasingly lighter and smaller."
Hybrid vests fit tighter to the body with a lower profile to make fishing and paddling easier. These vests are a good choice for anglers repeatedly entering and exiting their kayaks. Also, wading and portaging are easier with a hybrid.
I wear a hybrid in the surf, where I have to dive under waves and wrestle my kayak.
Inflated dreams
Light, thin and comfortable, inflatable life vests seem too good to be true. Deflated, the air chambers are less than a few inches wide. In an emergency, a CO2 canister is triggered, filling an expandable bladder to bring the swimmer to the surface. Manual inflatables are triggered by pulling a cord. Automatics inflate when exposed to water.
Gabe Doring at Absolute Outdoors points out, "Inflatables provide more flotation than a foam life vest." Then he adds, "there are some limitations." Wearers must be over 16 years old, a competent swimmer and willing to perform required maintenance.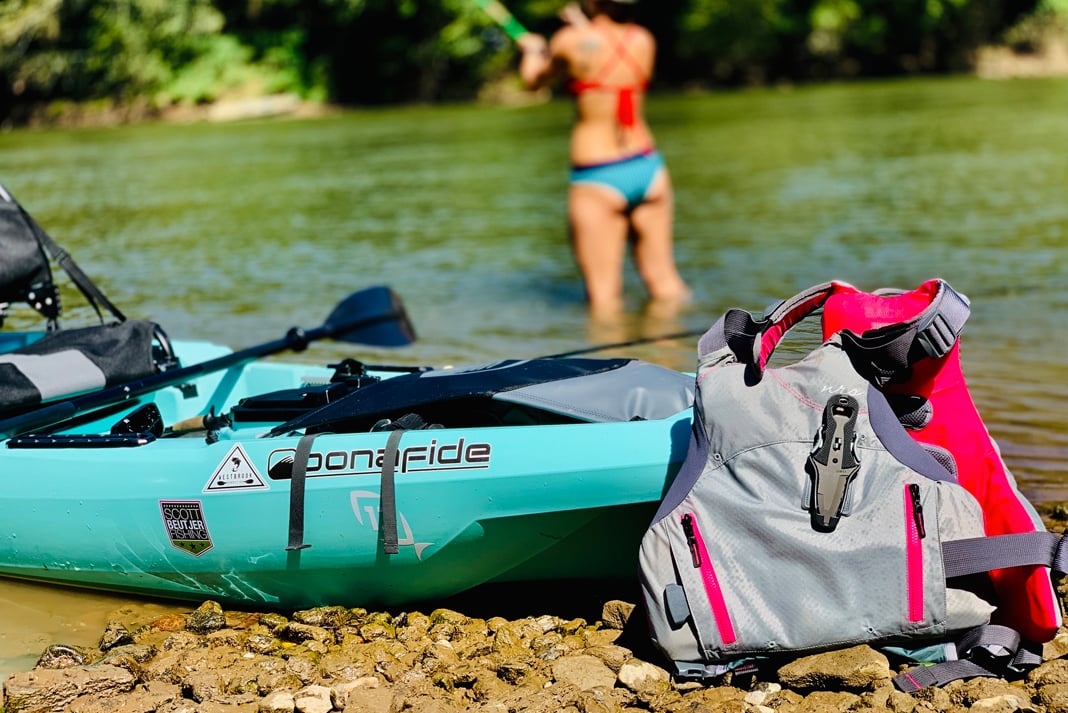 After the bladders are inflated, the vest becomes big and bulky, restricting movement while keeping the swimmer afloat. The trigger and CO2 cartridge should be inspected each trip. Carry extra cartridges to rearm on the water.
There are several choices for inflatable life vests. Alex Kozma suggests a manual version when the wearer will come in frequent contact with water. If the angler is fishing alone or in a high-traffic or high-risk area, an automatic inflatable vest would be the best choice.
Belt-worn inflatable PFDs are popular with standup paddleboarders. The fanny pack-sized pouch holds an inflatable bladder without restricting paddling strokes. Once triggered, the wearer must pull the yoke over his neck.
Anglers who complain PFDs are too hot or bulky will have nothing to cry about with an inflatable. Weighing less than a pound and only a few inches wide, it's easy to forget you're wearing one. Until you need it.
More choices, fewer excuses. | Photo: Scott Beutjer