Archeologists believe prehistoric people used inflated animal bladders for flotation when wading across a swift river. So you could say inflatable life jackets have been around since the Stone Age. Today inflatable life jackets are more comfortable, versatile and reliable, not to mention they smell better than an air-filled goat stomach.
Light, compact and reliable, inflatable life jackets are popular with kayak anglers because the PFD doesn't interfere with fishing, paddling or pedaling. In addition, in an emergency, inflatable life jackets provide life-saving flotation.
The best inflatable life jackets have an expandable air bladder folded into a protective cover. Pull a cord on the vest and a canister of compressed carbon dioxide (CO2) quickly inflates the air bladder like a balloon.
As a backup, every inflatable life jacket has a manual inflation tube. To repack the PFD, deflate the bladder, reset the trigger mechanism, and replace the CO2 canister.
Inflatable life jackets are available as a vest or a belt pack with manual or automatic activation. They don't offer inherent floatation, so they are recommended for calm water within close range of rescue. Inflatables are not appropriate for paddlers under 16 years old and non-swimmers.
For information about an inflatable life jacket's recommended use, check the large label on the inside of the life jacket.
Top Picks for the Best Inflatable Life Jackets
The following inflatable life jackets have received the highest star ratings by reviewers in our Kayak Angler Buyer's Guide. See and review all inflatable kayak fishing life vests here.
Best Kayak Fishing Life Vests
Shop for an Inflatable Life Jacket
Follow the links below in to the Kayak Angler Buyer's Guide where you'll find every inflatable fishing PFD along with specs, prices, reviews and places to buy.
---
Shop by type
---
Shop by brand
---
Shop by retailer
Inflatable Life Jacket Buying Advice
Types of Inflatable Life Jackets
There is an inflatable PFD for every kayak angler. Anglers who spend long hours on the water and venture far from shore use an inflatable vest. Belt pack inflatables are popular with standup paddleboarders looking for freedom of movement. Hybrid life vests combine foam for inherent floatation with an inflatable bladder for extra buoyancy.
What Are Automatic Inflatable Life Jackets?
Inflatable life jackets are available in automatic and manual inflation. Automatic inflation activates when the life jacket hits the water. To prevent rain or spray from inflating the life jacket, the triggering mechanism, called a bobbin, must be submerged in water before it will release the CO2. You can still manually activate an automatic life vest by pulling a cord.
Self-inflating life jackets are ideal for anglers looking for extra assurance with instant flotation without the bulk and weight of a foam life vest. Automatic inflatables are more expensive and the trigger requires regular inspection and replacement, but they add a layer of confidence that could be invaluable in an emergency.
What Are Manual Inflatable Life Jackets?
Manual life jackets require the wearer to pull a cord to trigger the CO2 canister. Once the cord is pulled, the gas takes less than a second to escape the small canister and fill the air bladder.
Since inflatable life vests aren't recommended for "wet" activities like waterskiing or whitewater rafting, manual inflatable life vests are sufficient for most anglers. If you are kayak fishing in open water and rough conditions, go with a foam life vest.
What Are Hybrid Inflatable Life Jackets?
Hybrid inflatable life jackets offer the best of both comfort and reliable flotation. Hybrids combine a thin layer of foam for 15 pounds of buoyancy and an inflatable bladder to provide an extra eight pounds of floatation.
In an emergency, you get the confidence of inherent flotation. Fall overboard and the foam keeps you afloat while you reenter the kayak. Become separated from the kayak or experience difficulty reentering, and inflating the bladder provides buoyancy for an extended swim.
Some hybrid life vests offer pockets for small tools or a smartphone. The low-profile design increases mobility while fishing and paddling and makes it easier to reenter the boat from the water.
Choosing an Inflatable PFD: Life Jacket or Belt
Inflatable personal floatation devices fall into two categories: suspender and belt. A suspender-style inflatable vest hangs around your neck and over your chest. A belt pack PFD circles your waist.
When an inflatable vest is activated, the bladder fills around the neck and over the chest. A belt-style PFD inflates a yoke-shaped bladder that you have to then put over your neck and secure with a strap.
Belt PFDs are most popular for standup paddleboarders. The light and low-profile belt pack provides emergency flotation without getting in the way of the long SUP paddle stroke.
Most kayak anglers use an inflatable life vest. A vest doesn't interfere with the highback sit-on-top kayak seat and still allows freedom for fishing, pedaling and paddling. Once inflated, the life jacket provides immediate flotation.
Inflatable Life Jacket
To provide flotation, an inflatable life jacket uses a canister of compressed carbon dioxide to inflate an expandable bladder. Most inflatable life jackets fit around your neck and over your chest with straps across the back and a clip at the front. As mentioned before they are also commonly referred to as suspenders.
Inflatable life jackets use manual or automatic inflation. To activate a manual life jacket, you pull a cord. Automatic life vests inflate as soon as the trigger mechanism is submerged.
Anglers choose an inflatable life jacket because it is cooler, lighter, smaller and more comfortable than a foam-filled PFD. Once the bladder is filled, an inflatable life jacket offers the same buoyancy as a foam vest.
Inflatable PFD Belts
An inflatable PFD belt looks like a fanny pack with a webbed belt and a small bag to hold the bladder, CO2 canister and trigger mechanism. Wrap the belt around your waist and secure the clip.
A belt pack PFD uses a CO2 canister to fill an expandable bladder with gas. Once the bladder is inflated you have to place the flotation around your neck and secure the clips and straps.
A belt-worn life jacket is the smallest and lightest personal flotation. It also offers the least flotation and requires two steps to inflate and wear, so a belt life jacket is best for sheltered water with help nearby.
Coast Guard Approved Inflatable Life Jackets
The U.S. Coast Guard classifies life vests by Type I to V.
Type I and II life vests offer the most buoyancy, but they are too heavy and bulky for kayak fishing.
Type III life jackets provide inherent buoyancy without inhibiting movement. Type IV life jackets include throwable flotation like a life ring or cushion. Type V life vests are categorized by the special use indicated on the label.
The best inflatable life jackets for kayak fishing fall into Type III and Type V. In order to have Coast Guard approval these PFDs must have 15 pounds of flotation, which is plenty considering most people need seven to 12. Unlike a foam life vest, in order to satisfy Coast Guard requirements you must wear an inflatable life vest at all times.
Inflatable Life Jacket Features
Inflatable life jackets are compact and light, but they still have important features. Start with a life vest approved by an independent testing agency such as Underwriters Laboratories (UL) and the Coast Guard. This approval guarantees the trigger mechanism and air bladder will perform in an emergency.
The most important choice is automatic or manual inflation. Most anglers choose manual inflation because the life vests are less expensive and still offer reliable flotation. Anglers fishing in open water or with health concerns prefer the confidence of a self-inflating life jacket.
Next, look for comfortable features such as a full harness in the back and soft fabric around the neck. Wearing an inflatable life vest all day causes straps and edges to dig into the skin. A full-back harness holds the PFD in place and provides more support in the water.
Some inflatable life jackets have a few pockets for small items. To monitor the readiness of the CO2 cartridge and trigger, the best inflatable life jackets have a clear window over the mechanism's indicator.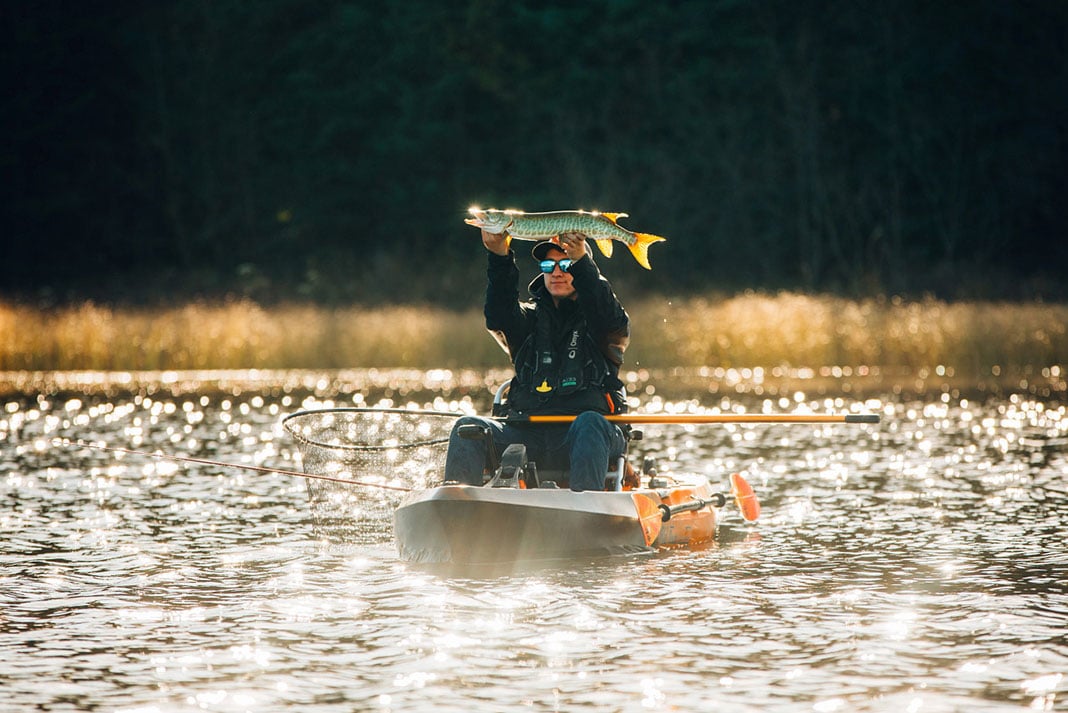 Inflatable PFD Cost
Inflatable life jackets are surprisingly expensive. The least expensive models are close to $100 and feature-rich inflatable life jackets cost up to $400.
The big expense is the complicated trigger and bladder. Ensuring the PFD inflates in an emergency requires precision mechanisms and high-quality parts.
Rearming the PFD with a new CO2 canister isn't expensive. You can purchase fresh canisters at any outdoors store or online for a few dollars. Some inflatable PFDs require replacement of the bobbin or trigger mechanism. You'll also want to be sure you carry extra CO2 canisters and bobbins to rearm the life vest on the water.
Adding comfort features also adds to the cost. A full-back harness instead of a narrow belt improves fit and performance as well as comfort. You're likely going to log long hours with the life vest hanging over your neck or wrapped around your waist, so comfort is imperative. Even though an inflatable PFD is lighter and smaller than a traditional foam-filled PFD, rough edges, stiff material, and poorly planned straps cause discomfort. So, when purchasing an inflatable life vest, try it on, adjust the fit and give it a test ride.
Where to Buy
The best place to purchase inflatable life jackets is a local kayak outfitter or tackle shop. The experienced staff can recommend the best inflatable life jacket for the area's fishing and paddling. Specialized shops also carry the best selection at a wide range of prices. Most importantly, at a local shop you can try on different styles and sizes to find a perfect fit.
Another option is a large outdoor store. Many franchises hire local anglers and paddlers and the stores carry a broad selection of inflatable life jackets. If a life jacket isn't in stock at the store, it may be available on their website. Having the option to pick up and return the PFD at the store makes it easier to find the right size and fit.
Online retailers offer the largest selection of inflatable life jackets. Starting the search at the Kayak Angler Buyer's Guide provides reliable reviews and links to reputable outfitters.
The most important step in choosing the best inflatable life jacket is finding the right style and fit for all-day comfort.
Shopping for a Used Inflatable PFD
Purchasing a used inflatable life jacket can save money on an expensive piece of equipment. Before buying a used inflatable life jacket, check all parts for wear and corrosion. Inflate the life vest to verify the trigger system works and the bladder holds air. Leave the life jacket inflated for a couple of hours to detect a slow leak. Deflate and repack the bladder and then rearm the CO2 canister to ensure it is in good condition.
Q&A About Choosing the Best Inflatable PFDs
Are inflatable life jackets Coast Guard approved?

Inflatable life jackets are Coast Guard approved. An inflatable life vest falls into Type III and Type V categories approved for restricted use for specific activities. Check the life jacket's label for the intended use.

Are inflatable life jackets reusable?

Inflatable life jackets are reusable. To rearm an inflatable life jacket, replace the spent CO2 canister and reset or replace the trigger. Then, deflate the bladder and repack it into the PFD.

When should you replace the CO2 cylinder in an inflatable PFD?

Inspect the CO2 canister and trigger mechanism and inflate the bladder at least every two to six months depending how often you use the jacket. Leave the bladder inflated for a couple of hours to expose leaks. Check the CO2 canister and hydrostatic automatic trigger mechanism for an expiration date and always carry a backup canister and valve. Automatic inflatables with a bobbin should be inspected more often. Replace the bobbin at least every three years according to the manufacture date printed on the bobbin.

How do inflatable life jackets work?

Inflatable life jackets work by filling an expandable air bladder with CO2 gas. Pull a cord on the life vest to release gas from a small canister and inflate the PFD in seconds.

Are inflatable life jackets good for kayaking?

Inflatable life jackets are good for kayaking. The best inflatable life vests are small and light to improve mobility and comfort. For sheltered waters with easy rescue, an inflatable life jacket is a great choice. Many fishing tournaments require anglers wear a PFD, making inflatables popular for anglers who spend a lot of time on the water. Inflatables are also popular in warm weather because they are cooler and lighter than foam life vests.
Inflatable Life Jacket Reviews
Below you will find in-depth reviews from Kayak Angler contributors on the best inflatable kayak fishing life vests available today.
Inflatable life jacket reviews
Hybrid life jacket reviews